You're Never Weird on the Internet
(Almost) by Felicia Day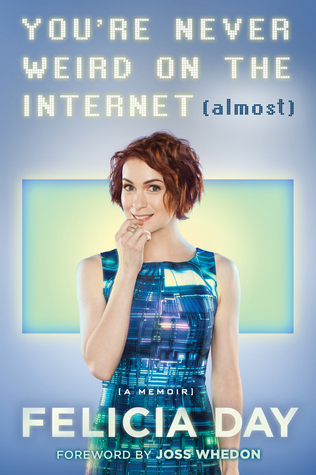 Blurb:
From online entertainment mogul, actress, and "queen of the geeks" Felicia Day, a funny, quirky, and inspiring memoir about her unusual upbringing, her rise to Internet-stardom, and embracing her individuality to find success in Hollywood.
The Internet isn't all cat videos. There's also Felicia Day—violinist, filmmaker, Internet entrepreneur, compulsive gamer, hoagie specialist, and former lonely home schooled girl who overcame her isolated childhood to become the ruler of a new world... or at least semi-influential in the world of Internet Geeks and Goodreads book clubs.
After growing up in the south where she was "home-schooled for hippie reasons", Felicia moved to Hollywood to pursue her dream of becoming an actress and was immediately typecast as a crazy cat-lady secretary. But Felicia's misadventures in Hollywood led her to produce her own web series, own her own production company, and become an Internet star.
Felicia's short-ish life and her rags-to-riches rise to Internet fame launched her career as one of the most influential creators in new media. Now, Felicia's strange world is filled with thoughts on creativity, video games, and a dash of mild feminist activism—just like her memoir.
Hilarious and inspirational, You're Never Weird on the Internet (Almost) is proof that everyone should embrace what makes them different and be brave enough to share it with the world, because anything is possible now—even for a digital misfit.
Review:
So here's the thing Memoirs and
Non-Fiction books are really not my
thing. For the reading challenge this
year I was dreading picking up a
memoir and it dragging all the way
through and suffering while reading
it. But then I saw that Felicia Day had
written a memoir.
I've adored Felicia
Day since I saw her on Supernatural,
so I thought it was only appropriate I
read this one.
I started this book during my
semester finals because I thought I
won't be tempted as much by it. Boy
was I wrong.
I was honestly surprised at how much
I enjoyed reading this book. I think
reading about her journey and how
she achieved each milestone has
made me love her even more.
It was quirky, hilarious, inspiring and
witty. It reads exactly like I imagine
she talks IRL, and the pictures that
she's put in the book made the book
even funnier.
Loved every minute of it. ♥
PS: I just found out that the audiobook
version of this is narrated by Felicia
Day herself. Now I wish I'd have
bought the audiobook rather than the
ebook. Oh well maybe next time
... ;)