The Lunar Chronicles by Marissa Meyer
Hold on lovelies, this one is going to be a looonnnggg post!
The Lunar Chronicles by Marissa
Meyer is a retake on the classic fairy tales that we grew up with. Filled with all the whimsical elements of the fairy tales, The Lunar Chronicles takes the stories we love and gives it a futuristic, sci-fi, dystopian spin. I did enjoy the whole series and I was so glad that I read the whole series back to back, with the exception of one short story that releases in 2016.
I adored the characters,
Cinder and Thorne are #FriendshipGoals, yes I just used a hashtag there.
Iko is just brilliant, and I adored Winter and Jacin! If you asked me to pick a favorite character from the series I'd probably pick Carswell Thorne just for his sense of humor and sass ;)
I liked the writing style as well. I just wish it would have been a little more, fine-tuned I guess, it would have made the story even more enjoyable.
Full disclosure, it does drag in some places, but the story line is compelling and engaging enough to keep reading.
Lastly, the covers! They are so gorgeous and cleverly planned. Each cover showcases the focal element of each of the story tales it is based on.
In case you wanted reviews for each book, I have short individual reviews for each book up in the reading
order recommended by the author in
her blog post, it did make most sense this way, also I found that there would be no spoilers this way!
Cinder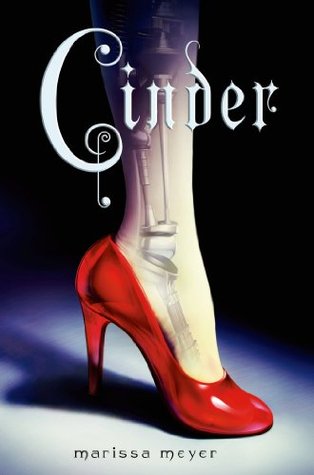 Blurb:
Humans and androids crowd the raucous streets of New Beijing. A deadly plague ravages the population. From space, a ruthless lunar people watch, waiting to make their move. No one knows that Earth's fate hinges on one girl.
Cinder, a gifted mechanic, is a cyborg. She's a second-class citizen with a mysterious past, reviled by her stepmother and blamed for her stepsister's illness. But when her life becomes intertwined with the handsome Prince Kai's, she suddenly finds herself at the center of an intergalactic struggle, and a forbidden attraction. Caught between duty and freedom, loyalty and betrayal, she must uncover secrets about her past in order to protect her world's future.
Review:
Cinder is based on the classic story of Cinderella. But it wasn't as oh well, princess-ey? I suppose. I was pleasantly surprised by the story line, in the sense that how the author incorporated the fairy tale to the whole dystopian, sci-fi world that she created.
Glitches
Blurb:
Cinder, a gifted mechanic, is a cyborg. She's a second-class citizen with a mysterious past, reviled by her stepmother and blamed for her stepsister's illness. In Glitches, a short prequel story to Cinder, we see the results of that illness play out, and the emotional toll that takes on Cinder. Something that may, or may not, be a glitch…
Review:
Glitches is the prequel to Cinder. It explains how Cinder came to live with the Linh family and how she got her start with being a mechanic. Like all novellas, Glitches does fill in some gaps and adds more to the story.
Scarlet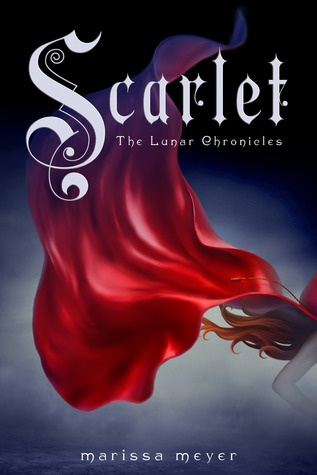 Blurb:
Cinder, the cyborg mechanic, returns in the second thrilling installment of the bestselling Lunar Chronicles. She's trying to break out of prison—even though if she succeeds, she'll be the Commonwealth's most wanted fugitive.
Halfway around the world, Scarlet Benoit's grandmother is missing. It turns out there are many things Scarlet doesn't know about her grandmother or the grave danger she has lived in her whole life. When Scarlet encounters Wolf, a street fighter who may have information as to her grandmother's whereabouts, she is loath to trust this stranger, but is inexplicably drawn to him, and he to her. As Scarlet and Wolf unravel one mystery, they encounter another when they meet Cinder. Now, all of them must stay one step ahead of the vicious Lunar Queen Levana, who will do anything for the handsome Prince Kai to become her husband, her king, her prisoner.
Review:
Scarlet is based on the story of Little Red Riding Hood. I love how the author continues to build up the book world while integrating new fairy tales into the main plot. I adored the new characters and loved uncovering more of Cinder's story.
The Queen's Army
Blurb:
It is time. The boy must leave his family to serve in the Queen's army. To be chosen is an honor. To decline is impossible. The boy is modified. He is trained for several years, and learns to fight to the death. He proves to the Queen—and to himself—that he is capable of evil. He is just the kind of soldier the Queen wants: the alpha of his pack.
Review:
This is the prequel to Scarlet. It is the back-story for Ze'ev "Wolf" Kesley and how he was genetically modified into the lunars' version of the Big Bad Wolf. There's quite a bit going on in this book, even though it is a novella.
The Little Android
Blurb:
When android Mech6.0 saves the life of a handsome hardware engineer, her body is destroyed and her mechanics discover a glitch in her programming. Androids aren't meant to develop impractical reasoning or near-emotional responses…let alone fall in love.
Review:
The Little Android is a short story based on The Little Mermaid,
set in the same world as The
Lunar Chronicles. It is not really related to
the main plot, but it does have a nice
little story about androids, maybe an appearance by one of our characters. Overall, a short
and sweet read.
Cress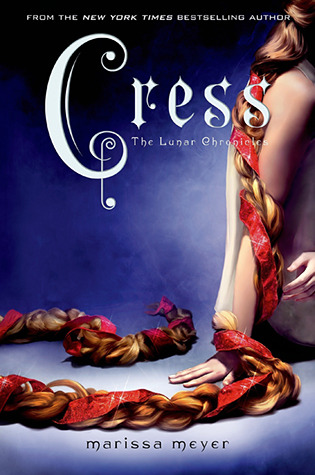 Blurb:
In this third book in the Lunar Chronicles, Cinder and Captain Thorne are fugitives on the run, now with Scarlet and Wolf in tow. Together, they're plotting to overthrow Queen Levana and her army.
Their best hope lies with Cress, a girl imprisoned on a satellite since childhood who's only ever had her netscreens as company. All that screen time has made Cress an excellent hacker. Unfortunately, she's just received orders from Levana to track down Cinder and her handsome accomplice.
When a daring rescue of Cress goes awry, the group is separated. Cress finally has her freedom, but it comes at a high price. Meanwhile, Queen Levana will let nothing prevent her marriage to Emperor Kai. Cress, Scarlet, and Cinder may not have signed up to save the world, but they may be the only hope the world has.
Review:
Cress is based on the story of Rapunzel. I am constantly surprised at how the author captured the essence of each fairy tale character and incorporated them into the characters in her book world. The book does pick up its pace in this installment in the series, with the plans and the rescues. With some unexpected twists, this was quite a good read.
Carswell's Guide to Being Lucky
Thirteen-year-old Carswell Thorne has big plans involving a Rampion spaceship and a no-return trip out of Los Angeles.
This is a little back story to the would be Captain, Carswell Thorne. I adore him, I really do. This novella features the elusive Kate Fallow and we get to see that story play out from Thorne's POV.
Fairest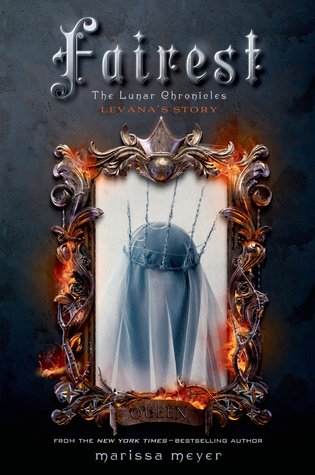 Blurb:
Mirror, mirror on the wall,
Who is the fairest of them all?
Fans of the Lunar Chronicles know Queen Levana as a ruler who uses her "glamour" to gain power. But long before she crossed paths with Cinder, Scarlet, and Cress, Levana lived a very different story – a story that has never been told . . . until now.
Review:
I actually read this book in the end, because well Levana. I honestly do.not.like.her! Well this book started out making me feel a bit of sympathy towards Levana, but then no, nope. I can't even. No. Just no.
At one point it had the same feel as Gone Girl. So much manipulation and glamours here.
This might not really feel like a review but please just understand my fangirl feels, and go with it.
Winter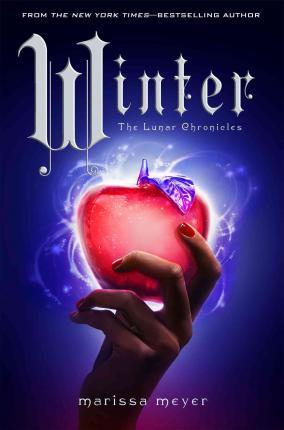 Blurb:
Princess Winter is admired by the Lunar people for her grace and kindness, and despite the scars that mar her face, her beauty is said to be even more breathtaking than that of her stepmother, Queen Levana.
Winter despises her stepmother, and knows Levana won't approve of her feelings for her childhood friend—the handsome palace guard, Jacin. But Winter isn't as weak as Levana believes her to be and she's been undermining her stepmother's wishes for years. Together with the cyborg mechanic, Cinder, and her allies, Winter might even have the power to launch a revolution and win a war that's been raging for far too long.
Can Cinder, Scarlet, Cress, and Winter defeat Levana and find their happily ever afters?
Review:
Winter is based on the tale of Snow White. In this finale to the series, we finally see the revolution we've been waiting for. We all know what will happen, I mean it is easy enough to predict, but it was still an enjoyable read. I especially loved Winter in this book. I did hate a few parts of this book, I might have been yelling - how could you do this?! Might have. I'm not admitting to anything :P
I think Winter's cover is probably my favorite in the series. It is just really well made.
All in all quite a satisfying ending to the series.