The Sword of Summer by Rick Riordan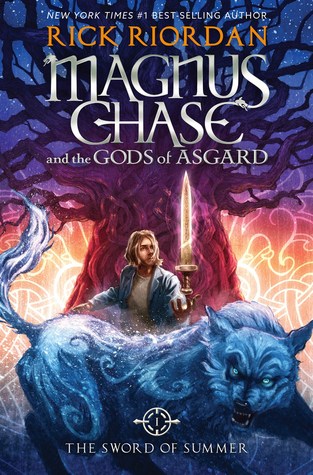 Blurb:
Magnus Chase has always been a troubled kid. Since his mother's mysterious death, he's lived alone on the streets of Boston, surviving by his wits, keeping one step ahead of the police and the truant officers.
One day, he's tracked down by a man he's never met—a man his mother claimed was dangerous. The man tells him an impossible secret: Magnus is the son of a Norse god.
The Viking myths are true. The gods of Asgard are preparing for war. Trolls, giants and worse monsters are stirring for doomsday. To prevent Ragnarok, Magnus must search the Nine Worlds for a weapon that has been lost for thousands of years.
When an attack by fire giants forces him to choose between his own safety and the lives of hundreds of innocents, Magnus makes a fatal decision.
Sometimes, the only way to start a new life is to die . . .
Review:
I read this pretty much soon as it released and forgot to add it to Goodreads and review it. I might have forgotten to add a couple more books as well... Oops. (I was busy fangirl-ing and begging my friends to read it okay? :P )

Also please do not tell me this book is not meant to be read by some one in their twenties, I do not care. I will read everything Rick Riordan writes because it is just too good not to. Sorry not sorry? :P

Anyway.. I really enjoyed this book. Uncle Rick does it again. This time his take on Norse Mythology while still true to its mythological roots? is effortlessly integrated into the modern day. I loved learning more about the Norse Mythology through this wonderful book, oh maybe there would be a Magnus Chase's Norse Gods series? (hint-hint, wink-wink)
Part of the reason I enjoyed this book so much might be because of Magnus' sass and all the other fandom references. Oh gods! It was funny and sarcastic and just so good!
It is quite reminiscent of Percy Jackson in the style that it is written and hello amazing chapter titles! I swear this is one of my favorite parts of novels.
Also NO CLIFFHANGERS! :D
All in all, I'm a pretty happy fangirl over here!

PS: I so prefer this cover to the UK one... which is unfortunately the one I have... :|