Crane by Stacey Rourke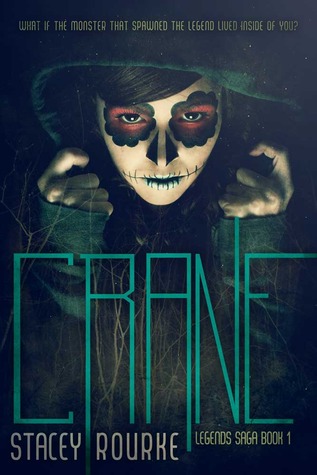 Blurb:
The Horseman is unending,
his presence shan't lessen.
If you break the curse,
you become the legend.
Washington Irving and Rip Van Winkle had no choice but to cover up the deadly truth behind Ichabod Crane's disappearance. Centuries later, a Crane returns to Sleepy Hollow awakening macabre secrets once believed to be buried deep.
What if the monster that spawned the legend lived within you?
Now, Ireland Crane, reeling from a break-up and seeking a fresh start, must rely on the newly awakened Rip Van Winkle to discover the key to channeling the darkness swirling within her. Bodies are piling high and Ireland is the only one that can save Sleepy Hollow by embracing her own damning curse.
But is anyone truly safe when the Horseman rides?
Review:
"-"Death walks, and talks, and occasionally whisks you in a gruesome waltz." -"
Crane is the retelling of the tale of the Headless Horseman from Sleepy Hollow. Think, imagine how that would go; and now throw that out of the window because this was such a different and fresh take on the story.
I will admit it was a little difficult getting into the book initially, because in my head I kept mixing voices with the movie, the TV Show and the book, and they all are on completely different levels but yet share a sense of similarity. But once you do get into the story line, the writing just pulls you in.
I have adored Stacey Rourke's work since I read The Conduit. And Crane did not dissapoint.
Crane has all the things that I love and look forward to in Stacey Rourke's books - a sassy, kickass female lead, sarcasm, action, mystery, and suspense.
Crane will keep you guessing with incredible twists in the story. Grab a copy and ride with the Horseman! ;)
PS: SUPER LATE on this review!! I had to study.... Sorry my loves! The torture hopefully shall be over in May! ♥
Till Later
oxox