Carry On by Rainbow Rowell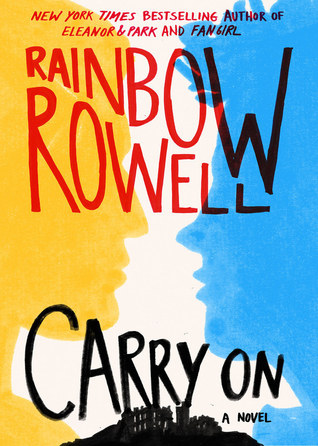 Blurb:
Simon Snow is the worst chosen one who's ever been chosen.
That's what his roommate, Baz, says. And Baz might be evil and a vampire and a complete git, but he's probably right.
Half the time, Simon can't even make his wand work, and the other half, he sets something on fire. His mentor's avoiding him, his girlfriend broke up with him, and there's a magic-eating monster running around wearing Simon's face. Baz would be having a field day with all this, if he were here—it's their last year at the Watford School of Magicks, and Simon's infuriating nemesis didn't even bother to show up.
Carry On
is a ghost story, a love story, a mystery and a melodrama. It has just as much kissing and talking as you'd expect from a Rainbow Rowell story—but far, far more monsters.
Review:
While I was reading Fangirl by Rainbow Rowell, Simon and Baz's story stood out for me. I was so anxious to read what would happen and how that story would end. It seemed like a pseudo cliffhanger, if you will.
But then the author announced that Simon and Baz would be getting their own novel, and I was so excited!
When I started reading Carry On, naturally my Potterhead mind (is that even correct?) started drawing references to the magical world of Hogwarts. I feel anyone would draw comparisons to Harry Potter because of the similarity between them, it's only natural to do that for us fangirls (and boys). Its a magical school where gifted students are taught magic, with a chosen one. Of course my brain jumped to HP, like it would jump to Vampire Academy if it was a school for vampires instead.
That was a rather long justification. Oops...
Anyway... Carry On is not all like Harry Potter, nor is it a fan-fiction. It is different in its own right and had it has its own voice.
But it does fill, to some extent, the HP shaped hole left in my heart.
In a story that we only saw the finale of, the author has created a rather endearing and magical world. It made me smile and cheer for the characters. The cliches made me giggle (only a little... Oh who am I kidding, I live for the cliches!)
Loved the characters, loved the writing style and loved the story.
I wish I could read more of Simon and crew's adventures apart from the gripping finale that we were given, but I'll take what I can get.
Enjoy this little nugget, may it temporarily satisfy/fill the HP shaped hole in your hearts as well!
Carry On....
(See what I did there? ;) )
PS: Exams start soon my lovelies! Wish me luck! I'll be back hopefully, next week for a bit!