Reading books by Rick Riordan is one of the highlights of my year. They make me laugh and take me away into a completely different world. Since I've been not posting, here are both the reviews for books by Rick Riordan that I read this year!
The Hidden Oracle by Rick Riordan
Blurb:
How do you punish an immortal?

By making him human.

After angering his father Zeus, the god Apollo is cast down from Olympus. Weak and disorientated, he lands in New York City as a regular teenage boy. Now, without his godly powers, the four-thousand-year-old deity must learn to survive in the modern world until he can somehow find a way to regain Zeus's favour.

But Apollo has many enemies—gods, monsters and mortals who would love to see the former Olympian permanently destroyed. Apollo needs help, and he can think of only one place to go... an enclave of modern demigods known as Camp Half-Blood.
Review:
This book was no different. Initially when they announced the book release I knew this book would be hilarious. I mean come on, a book revolving around Apollo? It was sure to be a hit! I loved that Percy was in this book as well. I absolutely love his character and since he was my OG favourite character, I have a soft spot for him.
And I HAVE to mention the chapter titles, I mean they have to be one of the highlights of the book, every chapter title is a haiku by Apollo so obviously it was immensely enjoyable.
I was also really excited about the ending. Why? Well you need to read for yourself, I won't tell you because
Loved and enjoyed every minute of this book! ❤
The Hammer of Thor by Rick Riordan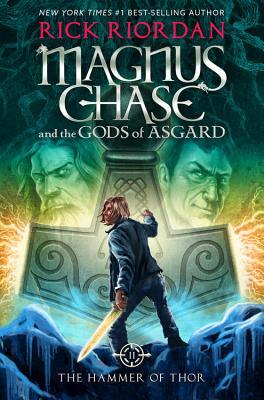 Blurb:
Thor's hammer is missing again. The thunder god has a disturbing habit of misplacing his weapon--the mightiest force in the Nine Worlds. But this time the hammer isn't just lost, it has fallen into enemy hands. If Magnus Chase and his friends can't retrieve the hammer quickly, the mortal worlds will be defenceless against an onslaught of giants. Ragnarok will begin. The Nine Worlds will burn. Unfortunately, the only person who can broker a deal for the hammer's return is the gods' worst enemy, Loki--and the price he wants is very high.
Review:
This was the second book in the Norse Mythology inspired series Magnus Chase and the Gods of Asgard. I adore Magnus, not more than Percy but yeah. But in this book another character completely stole the show for me.
Move over Magnus, Alex is here. I ADORE Alex! Initially I will admit I didn't quite "understand" who Alex was and what certain things meant. My reaction was pretty much like Magnus but once it all clicked into place, Alex had a permanent place in my heart.
Again I MUST mention the chapter titles, I mean seriously, the days leading up to the release of the book we saw teasers of the titles and they were absolutely hilarious! I think they add a little bit more to a book that is already pretty damn fantastic.
And finally like in The Hidden Oracle, the ending!!! I ended up frantically texting all of my book babes and asking them if they had finished reading because I was so damn excited! I'm really looking forward to Book 3. 2017 cannot be here soon enough! ♥