Golden Son by Pierce Brown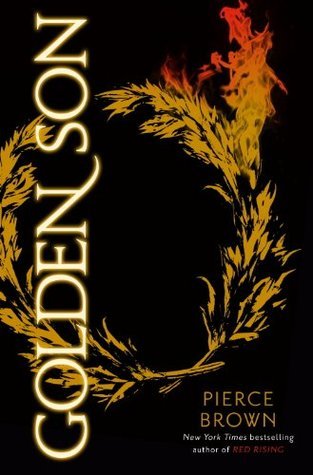 Blurb:
Golden Son continues the stunning saga of Darrow, a rebel forged by tragedy, battling to lead his oppressed people to freedom from the overlords of a brutal elitist future built on lies. Now fully embedded among the Gold ruling class, Darrow continues his work to bring down Society from within.

A life-or-death tale of vengeance with an unforgettable hero at its heart, Golden Son guarantees Pierce Brown's continuing status as one of fiction's most exciting new voices.
Review:
"For seven hundred years, my people have been enslaved without voice, without hope. Now I am their sword."
So after I read Red Rising, I wasn't sure if I wanted to jump right into book two and wait for a year to read the finale. So I thought I'd wait till the book was out, and I am so glad I did!!
Golden Son was even more exciting, more action packed, and full of more twists than the first book. Golden Son picks up a couple years after Red Rising. It follows Darrow's journey as he tries to break the chains that enslave his people.
This was one of my favourite lines in the book -
" "Dear Pliny," Sevro sings over the com.
If your heart beats like a drum,
and your leg's a little wet,
it's 'cause the Reaper's come to collect a little debt. "
Golden Son has been one of the few books that was better than the first book in the series. It was bloodydamn brilliant, funny, action-packed, and full of unexpected twists. After you get used to the writing style, you start to really enjoy the book. I will admit its a little on the heavy side, but its so worth the read. I loved the characters, especially loved Sevro and Ragnar. I have begun to really enjoy the writing style too.
Spoilers, kind of...
The end, WHY!? WHY WOULD YOU DO THIS TO US?!!??!? God!! Just when I thought yes, now the rebellion is gaining some traction, it will happen now, now they will break the chains. The author went no, NOPE. Now I have to go find out if everything is okay.
Be back later!
oxox